We had a few challenges with wifi/internet access, so posting this blog a day late – we should catch-up over next few days.
It was a great start to Tuesday with a yummy omelette breakfast (and 5 donuts for Scott) and then finally getting to meet the man we'd heard so much about.  Remmy is a Sr. Driver with Adventure Expeditions, and lives up to his great reputation set by past trippers of an engaging, informative, and amusing guide.  A real insight into his character came on the three hour drive from Kampala to Masaka.  We were pulled over for the second time for a random roadside police check.  While the first one was quick as the policeman was duly impressed by the Class C designation on Remmy's driver's license, the second stop was a different story.  This policeman was a dead ringer for Idi Amin, and seemed to have the same personality.  Perhaps it wasn't a good idea for the muzungu to ride as co-pilot, as this cop made a show for us and started to hassle Remmy, clearly angling for a bribe.  Remmy refuses to give bribes, and remained perfectly calm while the policeman detained him for the next 20 mins, accusing Remmy of arguing with him (he wasn't).  In the end, the copy issued Remmy a $100,000 shilling ($35) traffic fine for "careless and inconsiderate use of a motor vehicle".  Spidey managed to snap a sneaky picture of the corrupt cop, so perhaps he'll get outed as there's apparently a good site where Ugandans can publicly name and shame this practice.
After this little adventure, we arrived to another warm welcome at the Butale school, ushered in by songs from 250 school children.  The school headmaster/Uganda Landcare officer Francis took us into his office to give us his welcome and run down for the day.  We toured the school site and learned of many powerful examples about how Jr. Landcare teaches agricultural concepts in an accessible and rewarding manner.  We saw vertical gardens, veggies patches for each classroom, drip irrigation using plastic water bottles, tree seedling nurseries, enclosed combustion ovens (12 times more efficient that the standard practice of open fires for cooking), and piggeries that included a control group using standard local stock and techniques and a much healthier and larger group of pigs using the landcare techniques.  While there were many similarities to the circumstances of Bulesa school (the borehole well at Butale had also broken down after 2 years, and many orphans attend the school, 30% of the students have HIV), the positive and healthy energy from the students and the teachers at Butale was striking.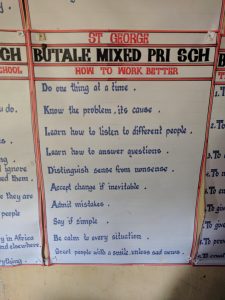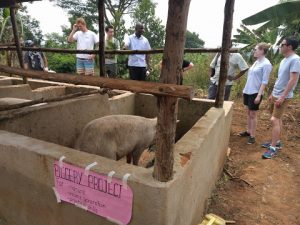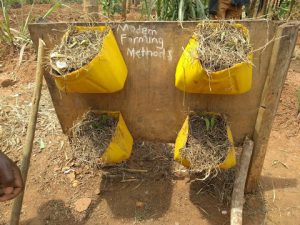 After the tour we were treated to more singing and dances (videos posted on Facebook) and a spelling/running game that felt a bit like Survivor TV show, with the prize for the winners being a spot at our community lunch rather than the typical cup of porridge.  We got a chance to take part in the fun which pitted Butale teacher vs. Kain Foundation visitor.  It was a split decision.  After a few more speeches, it was finally time for a late community lunch – more groundnut paste, matoke, rice, potatoes, cooked greens, and a new treat of sour black eyed peas.  Nick especially liked the little chillies, that is until he managed to rub it in his eye.
To counteract the post luncheon lethargy  which comes from eating matoke, we were out to soccer pitch.  Scott's back to back goals made it respectable, though the Bigs still lost to the Littles by a goal.  An afternoon rain shower was a relief to cool us down, and wasn't enough to dampen the spirits of the kids who loved Sharon's bubble sticks.  She's certainly got the right technique – apparently, it all in the wrists.  It was then time to say goodbye to the kids. Parting is such sweet sorrow.
After a quick freshen up at the Brovad hotel, we decided to walk to our final event of the day, a BBQ with some of the local Landcare leaders.  Perhaps I should have asked a few more questions when Mathias told me it was a short 1 kilometer walk from the hotel; 30 mins and 3 kilometers later after a risky walk along the highway, we arrived safely at the Corner Spot View and Pork Joint.  I wish I could share more of the rest of the evening's activities, but the rule is what happens at a pork joint stays at a pork joint.
Stay tuned for tomorrow's blog which will be from Nick (Blue Sky).
Cheers,
Lisa